What are the Olympics really about?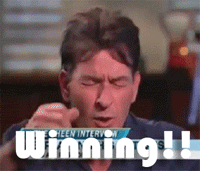 Just kidding. (Or am I?)
Clearly, I am. This is the Summer Olympics. My people are only good at sports in cold climates. And my actual people (and by this I mean athletes from the Philippines) don't really win so much at global competitions, see Miss Philippines 2010 and her mistake-free life.
The answer would be something along the lines of global unity and camaraderie. Good sportsmanship. Recognizing that we are all one. World peace. Nothing major major. (Goddamnit, Miss Philippines, was it so hard to think of a single thing you'd done wrong?)
Anyway. Since I don't have hundreds of fingers, I only did 3 flags. Where I'm from, where my parents are from, and the host country. The pinky was supposed to be the American flag, but in the end I decided that it would have been too much effort for such a small fingernail. Instead, I went with the "WINNING!" theme and painted it gold, OPI's Bling Dynasty.
The maple leaf was a temporary tattoo, the stripes on the British flag were done using a striper brush, and the sun on the Philippine flag was made with a dotting tool.
The colours I used were: Wet 'n' Wild
Red Red,
Sally Hansen
White On,
Color Club
Almost Famous
(yellow), and Essence
Walk on Air
(navy blue).
Here's the whole hand, with the Olympic flag showing as well. Amazingly, I did this without the aid of any striping or scotch tape. In the second picture you can see that my lines and edges are not 100% perfect, but they were definitely good enough to show you guys, haha.
That's it for now. Tomorrow I'll be posting my final Olympics manicure! :D